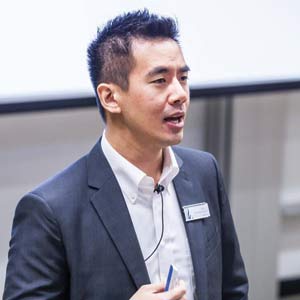 Gary lo, Managing Director & Principle Instructor
Gary lo, Managing Director & Principle Instructor of Glo Consulting, is a seasoned trainer and TEDx Speaker with extensive corporate experience. He has spent most of his career working at some of the most admired Fortune 500 companies, including Apple Inc., Unilever, and Nestle, with a scope covering the Greater China and APAC region. Through his years of experience, Gary saw the power of storytelling in enhancing brand value and leadership capacity. And that the key to storytelling is not to impress but to influence. "At the end of the day, life is a story, and that is why human beings are connected in that way. If we make storytelling right and apply it in the leadership context, it will make us much more effective while bringing a positive impact to people and getting the organization together," states Gary.
Glo Consulting's tagline, "Be an influencer, be a storyteller," highlights the importance of storytelling. It is not just about sugarcoating the messages and making things sound fancy, but it is more about adding a purpose and structure behind the messages to build an emotional connection with the audiences. "This is the only way to deliver real changes, as we believe knowledge (rational) only provides you with a direction, but the motivation (emotional) gives you the power to breakthrough. As an effective leader, storytelling will be an essential skill to manage stakeholder perception and keeping our teams motivated," explains Gary.
Be an Influencer, be a Storyteller
Glo Consulting integrates both the "conscious (i.e., skillset)" and "subconscious (i.e., mindset)" element in its leadership training, which makes it a more all-rounded transformation and differentiates it from other consulting firms that only focus on either skillset or mindset. The conscious part of training is about the "what" (i.e., what do we need to do), which includes skillsets, frameworks, and knowledge. However, if only "what" is covered, it will become a mechanical process, and the soul will be lacking. In contrast, the subconscious part helps to figure out the "why" (i.e., the purpose of doing this), which is about the mindset and adds the soul behind the leadership behavior. The company structures its training course like a story, where it clearly communicates the purpose of "why" leaders need to learn these skills, and at the same time, provide practical, real-life examples to help them learn about the "what" to do.
"From a training point of view, I believe organizations must be really clear about the behavorial changes they are expecting before identifying a training solution that attacks the root of the problem," says Gary. For the organizations that want to change or inculcate a certain behavior in the leadership, the company offers "M-S-I assessment" (Mindset – Skillset – Incentives) to identify the root cause of behavioral issues before proposing any training solutions.
Glo Consulting works with some of the top names across different industries, including BlackRock, UBS, HSBC, Google, Facebook, LinkedIn, Chanel, Bulgari, Swarovski, Intercontinental Hotels, L'Oreal, Estee Lauder, Johnson & Johnson, Novartis, Bayer, AIA, Prudential, Manulife, Walmart, KPMG, Nielsen, FedEx, Schindler, Goodman, Warner Music, New World Development, Fung Group and more.
Basically, every course that Glo Consulting offers is customized in different ways, including the material to the exercise that they arrange. "We want to make our training as practical as possible so the leaders can see the real transformations after the class," says Gary. "We will keep delivering innovative leadership development trainingto the ever-changing training scenario, and a close partnership with our clients will be the key for success," he concludes.